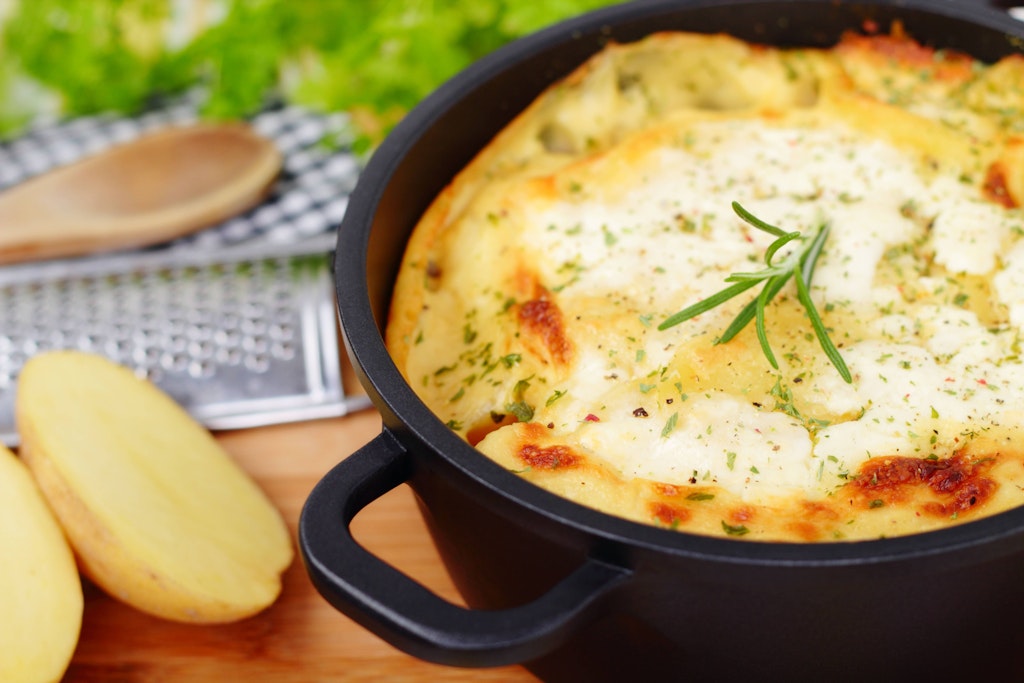 And again you are thinking of serving your family at dinner or on the weekend. Criteria: low effort, low cost, full of taste! Do we know That's why we have a luxurious recipe from the family kitchen for you, guaranteed to taste good. Try the potato casserole with minced meat – so delicious!
Also read: Quick potato wedges recipe: Country potatoes are very crispy and tasty with this marinade >>
Ingredients for potato casserole with minced meat
You need: 500 grams of minced meat, 1 onion, kilo of potatoes, 2 cloves of garlic, 150 milliliters of milk, 300 milliliters of cream, 2 spoons of tomato paste, ½ spoon of sugar, 3 spoons of olive oil, 1 spoon of rosemary (dried), 1 teaspoon of thyme (dried) , 1 nutmeg, 1 salt, 1 pepper, 100 grams of grated cheese
Also read: Sweet casserole with rice and minced meat Recipe: Very simple, quick on the table >>
This is how to make potato casserole with minced meat
This is how it is done: Preheat the oven to 200 degrees (top and bottom heat). Grease a casserole dish with a tablespoon of olive oil.
Vegetables: peel and finely chop the onion and garlic. Peel the potatoes and cut them into very thin slices with a mandoline.
Also read: Great recipe for Kohlrabi schnitzel with cheese filling: so crispy on the outside, meltingly tender on the inside >>
Place half the garlic in a large saucepan with the rosemary and thyme, add a tablespoon of olive oil, heat and sauté the spices briefly. Add the milk and cream and bring to a boil. Add the potato slices and cook, stirring, for 7 minutes. Remove the potatoes from the heat and season with salt, pepper and nutmeg.
Also read: A great potato goulash recipe to warm the soul: very cheap, very tasty, very quick to make >>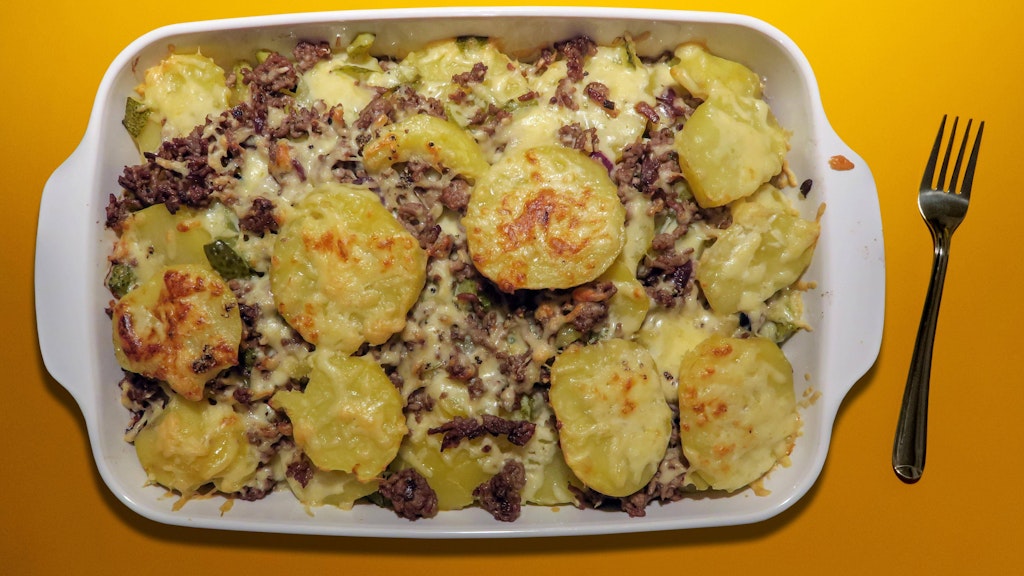 Heat the remaining oil in a large frying pan, fry the minced meat with the minced onion and the rest of the garlic until it crumbles. Add tomato paste and sugar and stir. Season with salt and pepper.
Also read: Recipe with only five ingredients: You can make the world's fastest inran cake very easily >>
Now alternately put the creamed potatoes and minced meat in the casserole. The last layer should be potatoes. Sprinkle with cheese and put in the oven. Leave it in the oven for 40 minutes. Enjoy your meal!