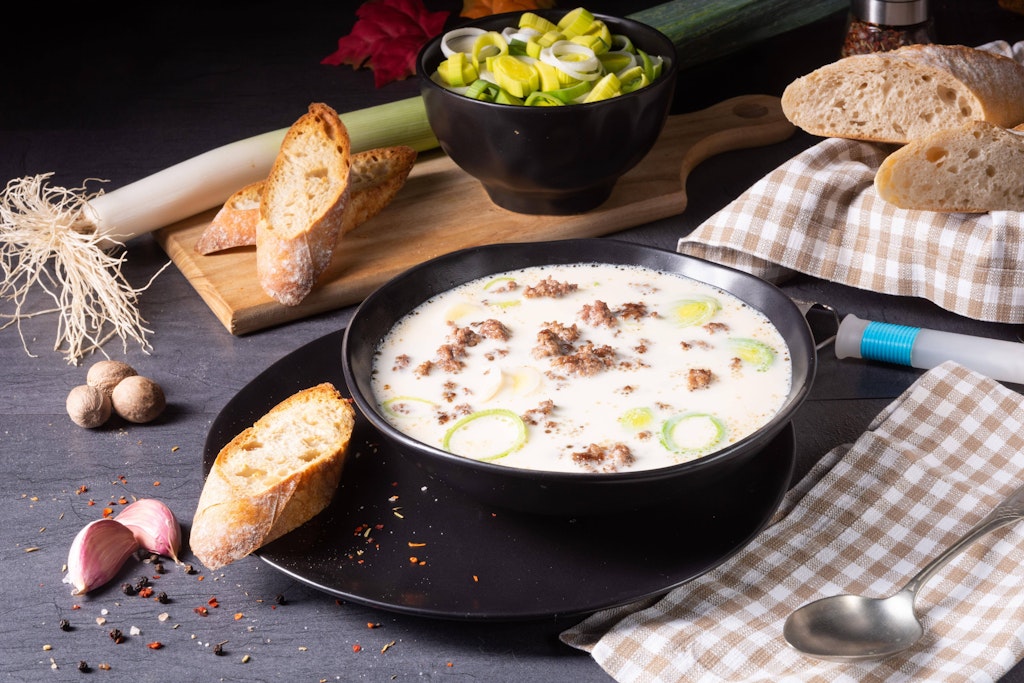 After the warm days, it's slowly getting cold again, and with that comes soup season! If you're looking for a recipe, you'll always end up with the classics: delicious, cheap, quick to make and warm from the inside. For example, the cheese and minced meat soup with leeks is a classic: it is spicy, creamy, delicious and uses few and cheap ingredients. In this recipe you will learn how to cook stews.
Also read: Grandma's Walnut and Pear Cake – a recipe for a clever fall treat! >>
Also Read Now: Incredibly Cheap, Simple and Delicious: Creamy Brussels Sprout and Potato Soup Recipe – You MUST Try >>
Minced meat, cheese and leek soup recipe: simple and delicious!
The great thing about this stew is that it is very quick to prepare and does not require many ingredients. At the same time, it is a perfect family meal, but this soup is also perfect for parties. Main ingredients: minced meat, melted cheese and leeks, plus some spices… that's all it takes to warm a warm soul.
Now also read: a great recipe for autumn! Baked onion soup with cheese: Cheap, tasty, delicious – dinner becomes a pleasure >>
Serve with a delicious slice of bread and enjoy the soup for a relaxing dinner after a long day; then the recipe is a balm for the soul. Here are the instructions for a cheap and easy cheese soup with minced meat and leeks.
Ingredients for cheese and minced meat soup: you need this
You will need: 250 grams of leeks, 500 grams of mixed minced meat, a little oil, 750 milliliters of vegetable broth, 200 grams of cream cheese, 1 onion, 1 cup of crème fraiche, salt, pepper, nutmeg and paprika.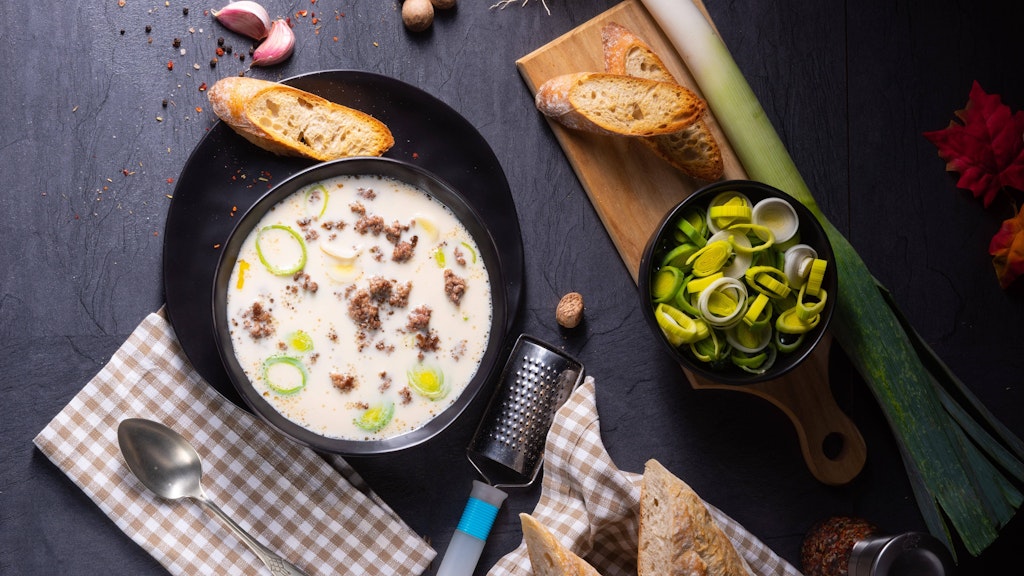 Here's how it works: Heat some oil in a pan. Peel and finely dice the onion, then fry in oil until translucent. Then add the minced meat and fry until crisp. Meanwhile, wash the leek and cut it into rings. Then add to the minced meat and fry until it falls apart.
Now also read: Delicious as in the GDR: a recipe for sausage goulash with noodles! THIS is the best, cheapest and easiest sausage goulash in the world >>
Pour in the stock and cook for about 15 minutes until the leeks are done. Then add the melted cheese and let it melt into the soup. Continue to boil gently, stirring occasionally. Lower the heat, add the fresh cream and let it melt into the soup. Season everything with salt, lots of fresh pepper, paprika and nutmeg.
Two extra tips: if you want something fresh in the soup, you can add some chives. To do this, wash a bunch of chives, shake them dry and cut them into small rounds – add them and stir. It's also good for a slightly spicy soup: the chili flakes from the mill round out the hearty stew perfectly. Enjoy your meal!
Also read now: delicious as in GDR times! Saxon Potato Soup with Sausage Recipe: This casserole is good for the whole family >>